Touched by life ~ Nurtured by the medicine & wisdom of touch - biodanza workshop with Unni in Oslo
Fra 18. mars 2023
til 19. mars 2023
Adresse: Sagveien 28, Tantrasenteret i Oslo, 0459 Oslo
(English below)
Varmt velkommen til mini-helg (dvs lørdag og halv søndag) med biodanza:
~ Touched by life ~
Nurtured by the medicine & wisdom of touch
1,5-dagers worskshop med Unni Heim
18. mars klokken 11:00 - 19:00
19. mars klokken 11:00 - 14:00
Sagveien 28 (Tantrasenteret i Oslo), 0459 OSLO
Å kjenne seg levende.
Å erfare seg selv.
Å erfare livet i sin essens.
Våre sanser forbinder oss med livet inne i oss, og livet rundt oss som vi er en del av.
Huden, hørselen, smak, lukt og syn er dører til livet selv.
Tidligere hudlege ved Rikshospitalet, Ole Fyran, skrev i sin bok "Berøring": "uten berøring dør mennesket". I dette refererte han til all slags berøring; å bli berørt av fuglesang, av soloppgangen, av tilstander av harmoni eller ekstase, av en omfavnelse, av musikk og kunst osv er essensielt for et levende menneske.
Å la seg bli berørt i hjerte, i sjelen, i cellene, i huden gjør at vi kan oppleve kjærlighet, tilhørighet og takknemlighet til livet.
Denne helgen er en invitasjon til å reise i sansene; alle sansene, men spesielt hudsansen. Huden er både en barriere, en grense til andre, men det er også et organ som forener.
I dag vet vi også hvor mye medisin det er i positiv berøring. Kroppen produserer hormoner som reparerer oss.
Berøringen kan være beroligende som roer oss ned, stimulerende som vekker vår vitalitet, behag som vekker nytelse, delikat som vekker vår sensitivitet, eller konsistent og tydelig, noe som gir oss erfaring av våre egne grenser.
Kom hjem til essensen av liv.
Pris:
Kr 1400 normal
Kr 1200 for lav inntekt/student
Påmelding ved depositum på kr 300. Bruk skjemaet på denne siden til å melde deg på. Der kan du betale med kort, be om faktura eller bruke vipps. Resten av beløpet betales før oppmøte til selve workshopen. Du får en egen link til dette noen dager før workshopen. Depositumet betales ikke tilbake.
Kun 18 deltakere.
Hvem kan delta?
Det er en fordel om du allerede har vært med på noen biodanza-klasser før. Ta kontakt dersom du ønsker å være med, men er usikker på om dette kan passe for deg.
Har du spørsmål? Ta gjerne kontakt: unni@biodanza.no
Lærer er Unni Heim.
Unni is a warm and sensitive facilitator. She grew up in Tromsø, but has lived most of her adult life in Oslo or around the world. Since the year 2000, she has been on a deeply transformative journey, both personally and professionally. She works full time with dance, meditation and human development, and has been invited to teach in several countries in Eastern, Southern, Central and Northern Europe as well as South Africa and Bali.
Bringing people together to support our deeper life journey is her greatest passion.
Unni is also the founder of Biodanza i Norway, and she is the founder and co-director of Norsk Biodanzaskole (the school training new biodanza teachers).
ENGELSK:
A warm welcome to the mini-weekend (ie Saturday and half of Sunday) with biodanza:
~ Touched by life ~
Nurtured by the medicine & wisdom of touch
1.5-day workshop with Unni Heim
18 March at 11:00 - 19:00
19 March at 11:00 - 14:00
Sagveien 28 (Tantra center in Oslo), 0459 OSLO
To feel alive.
To experience oneself.
To experience life in its essence.
Our senses connect us with the life inside us, and the life around us of which we are a part.
The skin, hearing, taste, smell and sight are doors to life itself.
Former dermatologist at Rikshospitalet, Ole Fyran, wrote in his book "Børing": "without touch man dies". In this he referred to all kinds of touch; to be touched by birdsong, by the sunrise, by states of harmony or ecstasy, by an embrace, by music and art, etc. is essential for a living human being.
Letting oneself be touched in the heart, in the soul, in the cells, in the skin allows us to experience love, belonging and gratitude for life.
This weekend is an invitation to travel in the senses; all the senses, but especially the skin sense. The skin is both a barrier, a boundary to others, but it is also an organ that unites.
Today we also know how much medicine there is in positive touch. The body produces hormones that repair us.
The touch can be soothing that calms us down, stimulating that awakens our vitality, pleasant that awakens pleasure, delicate that awakens our sensitivity, or consistent and clear, giving us experience of our own limits.
Come home to the essence of life.
Price:
NOK 1400 normal
NOK 1200 for low income/student
Registration with a deposit of NOK 300. Use the form on this page to register. There you can pay by card, request an invoice or use vipps. The rest of the amount is paid before attending the workshop itself. You will receive a separate link to this a few days before the workshop. The deposit is non-refundable.
Only 18 participants.
Who can participate?
It is an advantage if you have already taken part in some biodanza classes before. Get in touch if you would like to join, but are unsure whether this might suit you.
Do you have questions? Feel free to contact: unni@biodanza.no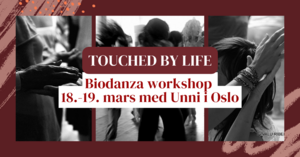 Påmelding