Womens medicine Module 1 – healing, honoring and embodying our ancestral line - Workshop with Unni
Fra 20. april 2024
til 21. april 2024
Adresse: Sagveien 28, Tantrasenteret i Oslo, 0459 Oslo
Women's medicine
Module 1 Healing, honoring and embodying our ancestral line
Womens biodanza workshop for healing, love and empowerment
Saturday 20 April from 12 to 20 2024 and
Sunday 21 April from 11 to 17 2024
at Oslo Tantrasenter, Sagveien 28, 0459 Oslo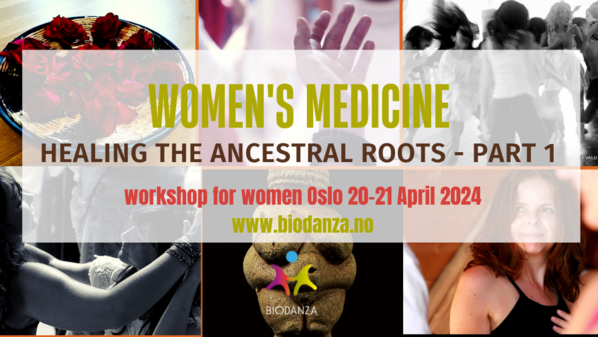 biodanza, ceremony, poetry, reflection, remembrance, meditation, sharing & wisdom circles.
Together we go into the deeper layers of our feminine essence, with the masculine power lovingly present within us.
Motivation for this workshop:
When my life crashed over 20 years ago, I became aware that for many years I had lived completely without contact with my feminine essence. Many call this part of us Divine feminine.
I also discovered that the masculine side of me was immature, and colored by the times we live in. My Divine masculine was also waiting to be found and retrieved.
The journey in recent years has been to rediscover both the feminine and masculine essence within me, and to bring these together into a nourishing union.
And I see that this is a journey many of us are on, both women and men; to come back to who we are and liberate ourselves from the unhealthy structures and repression from the historical patriarchy.
It is a time for love and compassion, and for healing.
At the last years of my mother's life, I also came much closer to womanhood, and not only the feminine and masculine as energies within. The consequences and imprints our history have for our lives became so clear. Identification with all the women in the past, present, future arised in me, and a tremendous love for the common path we are on changed me forever.
This love that is in all of us, is essential to heal both men and women in our time.
There are many paths into this work, and there are many aspects to retrieve:
- Women's integrated female identity
- Celebrating the sanctity of female expression in the world
- The woman's relationship with the sacred – the mysteries of the feminine
- Initiation rituals and different phases of a woman's life
- Healing from the patriarchate's repression
During this weekend we will focus on our essential femininity, compassion and creativity, the mystery as well as opening our capacity to love and to integrate with our lineage.
And of course, the feminine sistership.
Woman. Welcome.
Price:
NOK 1500 normal
NOK 1300 for low income/student
Sign un by using the form on this page. There you can pay deposit of NOK 300 by card, request an invoice or use vipps. The rest of the amount is paid before attending the workshop itself. You will receive a separate link to this a few days before the workshop. The deposit is non-refundable.
Only 18 participants.
Do you have questions? Feel free to contact: unni@biodanza.no
The workshop is guided by Unni Heim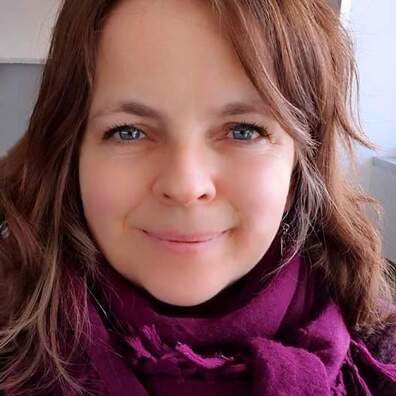 Unni is a warm and sensitive spaceholder, teacher, facilitator & healer. She grew up in Tromsø, but has lived most of her adult life in Oslo or around the world.
Unni is the founder of Biodanza in Norway as well as the founder of Norsk Biodanzaskole.
One of her passions is the essence of our life journey, the evolution and expansion of consciousness, the value of life, and the collective healing of mankind. She is trained as a Masters of engineering, psychosynthesis therapist and biodanza teacher.
Since 2000 she has been on a deep transformational journey herself as she transitioned from a life working as an international consultant in the IT-industry, to starting an inner journey due to life threatening illness.
Over the years she has been invited to teach regularly in every corner of Europe as well as South-Africa, Bali & Israel. She works full time with dance, meditation and human development.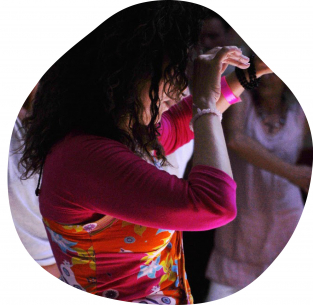 This is the first workshop in a series of 3 with the focus on our ancestral roots and power.
In module 1 (this workshop) we call upon our ancestral line and connect with love including more of our roots into our consciousness. Poetry and photos are essential in module 1.
In module 2 we go deeper into the earth and the ancestral memory of the female body.
The theme from module 3 is not set yet.
You do not need to do module 1 before module 2. You can do it in the other way arounds.
Module one and two will be organized a few times before we offer module 3.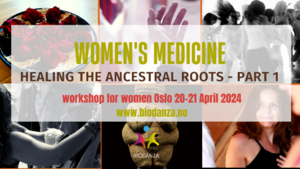 Påmelding