WILD AND FREE - Biodanza deepening workshop in Oslo with Unni Heim 16 - 17 september 2017
Fra 16. september 2017 11:00
til 17. september 2017 17:30
Adresse: Fossveien 24, 0551 Oslo
Welcome to a two days workshop with Unni Heim in Oslo. The workshop is rooted both in normal biodanza as well as biodanza and neo-shamanism.
Time:
Saturday September 16 2017 at 11:00 to 18:30 and
Sunday September 17 2017 at 11:00 to 17:30
Place:
Fossveien 24 (Kunsthøgskolen), Grünerløkka in Oslo
Theme for the workshop:
Wild and free
Deeper roots, wilder freedom
This weekend I invite us to connect deeper with our roots;
- our roots in the instincts, our animalistic power our wilderness and the elements
- our roots as energetic being
Open up to the unknown and allow yourself to expand, to set yourselves free, to see life in a wider perspective.
Welcome new freedom and new power.
Welcome the ecstasy of being alive.
Welcome new awareness and the expansion of consciousness.
Grow your roots deeper. Spread your wings wider.
Close your eyes and see - open your eyes and feel.
Finding the courage to fly…
The workshop rooted in biodanza and neo-shamanism and it is for those of you that are longing for a deeper connection with transcendence and spirituality.
The workshop is building on the workshop we had in June 2017 (Roots and wings), but you do not need to have participated on that workshop to be part of this one.
WHO CAN JOIN?
This workshop is open to people that have been practicing biodanza regularly, as well as for people with biodanza workshop experience. It is recommended that you have the capacity to feel your dance from within, and that you can let go of the control of the "thinking mind" so that you can surrender into the experience of the moment.
If you do not fit in any of these categories, and would like to join, please contact Unni so that we can decide together if this is a good workshop for you. unni@biodanza.no
PRICE AND PAYMENT:
Price for the workshop: Normal price 1300 NOK / for people with full season card in my weekly group 1200 NOK
Early bird discount if signing up before August 11 2017: Normal price 1100 NOK / for people with full season card in my weekly group 950 NOK
To sign up and secure your place please use the form.
Payment policy and return of fee:
If you for some reason sign out on 15 September or before, the fee will be returned except from a deposit of Kr. 300.
If you signed out after that, the entire fee is non-refundable.
LANGUAGE:
Teaching language is English if there are English-speaking participants in the group. If there are only Norwegian speaking participants, we use Norwegian language.
If you have questions please email Unni at unni@biodanza.no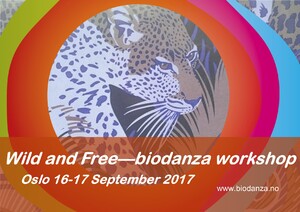 Påmelding