Self-esteem and the power of taking action - Biodanza WORKSHOP in Oslo with Unni Heim 11-12 november 2017
Fra 11. november 2017
til 12. november 2017
Adresse: Fossveien 24 (Lokalene til KHio i Oslo), 0551 Oslo
Welcome to a two days workshop with Unni Heim in Oslo.

Time:
Saturday November 11 2017 at 11:00 to 18:30 and
Sunday November 12 2017 at 11:00 to 17:30

Theme for the workshop:

Self-esteem and the power of taking action
Each and every one of us is a unique expression of life. We are all a part of the human family and by being born, we receive the maximum value of life.
This weekend we will give nutrition to our self-esteem, both as an inner quality, but also by starting to take our innermost desires seriously and integrate it with taking action.
On several occasions in my own life, I have encountered the fact that each one of us have this unique life only on a limited time. The deep realisation of the fact that life is NOW has showed me that there is no time to waist.
The knowledge of this limitation is giving power to take action where needed, and let go where that is serving life more.
Self-esteem does not mean to bolster the ego. It is a state where clarity, humbleness and gratitude meets. Self-esteem is the anchor that makes us take our lives for real; -not above others, not under others, but in alinement with life. It is a state of mind where we know we can chose, we know we can take action and we know we can just be.
Self-esteem has the serenity to accept the things we cannot change, it has the courage to change the things we can change, and it has the wisdom to know the difference of these two.
Welcome to celebrate life and our diversity. We are all a beautiful flower in the garden of life!

WHO CAN JOIN?
This workshop is open to people that have been practicing biodanza regularly, as well as for people with biodanza workshop experience.

If you do not fit in any of these categories, and would like to join, please contact Unni so that we can decide together if this is a good workshop for you. unni@biodanza.no


PRICE AND PAYMENT:
Price for the workshop: Normal price 1300 NOK / for people with full season card in my weekly group 1200 NOK

Early bird discount if signing up before October 16 2017: Normal price 1100 NOK / for people with full season card in my weekly group 950 NOK


Payment policy and return of fee:

If you for some reason sign out on 16 October or before, the fee will be refunded completely.

If you for some reason sign out between 17 October and 9 November, the fee will be returned except from a deposit of Kr. 300.

If you signed out after that, the entire fee is non-refundable.

PS: It is possibole to only pay the deposit upfront!
LANGUAGE:
Teaching language is English if there are English-speaking participants in the group. If there are only Norwegian speaking participants, we use Norwegian language.

If you have questions please email Unni at unni@biodanza.no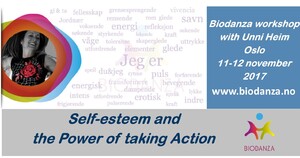 Påmelding