Videreutdanning for biodanzalærere
Fra 9. desember 2018
til 12. desember 2018
Yes! I will give my first extension training for biodanza teachers close to the cradle of human kind, in South-Africa, The nest, Drakensburg www.thenest.co.za/ Read more at http://africanencounter.co.za/extension-training/ The training is organized a few days before the African Encounter and your ticket includes you ...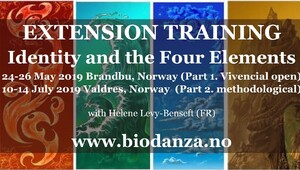 Fra 10. juli 2019
til 14. juli 2019
Dharma Mountain, Hedalen
Extension training Identity and the Four Elements with Helene Levy Benseft  methodological part in 4,5 days at Dharma mountain, Valdres valley, 2 hours from Oslo, Norway The training begins with a welcoming meal on Wednesday 10th July 2019 at 18:30, arrival from 17:00. The training ends on Sunday 14th July 201 ...
Billetter
Deposit: 600,00 kr

Fra 21. mai 2020
til 22. mai 2020
Helene is coming to give us a two days focus training in the development of fluidity in biodanza. The training is on thirday and friday. Please note that on saturday and sunday she also teach a module for us: The speach in Biodanza!
Fra 23. mai 2020
til 24. mai 2020