Workshops, festivaler, congresser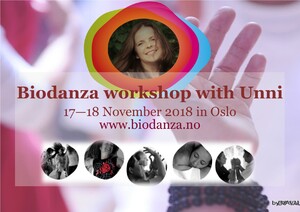 Fra 17. november 2018
til 18. november 2018
Fossveien 24, 0551 Oslo
Welcome to a one and a half day deepening workshop with Unni Heim in Oslo. Time: Saturday November 17 2018 at 11:00 to 18:00 Sunday November 18 2018 at 11:00 to 14:30 Place: Fossveien 24, Grunerløkka in Oslo Inderlighet - å favne livets gave Fervour - to embrace the gift of life    Ohhh! I have ...
Billetter
Normal price: 1.300,00 kr
Early bird: 1.100,00 kr
Normal with season card: 1.200,00 kr
Early bird with season card: 1.000,00 kr
Deposit : 300,00 kr

Fra 14. desember 2018
til 17. desember 2018
It is a pure joy for me to go to South-Africa for the African encounter and teach. The encounter takes place at The Nest Drakensberg (www.thenest.co.za/) from 5 pm December 14th until lunchtime December 17th.,  and is open to all biodanzers from all over the world. Read more at http://africanencounter.co.za/ Pre-t ...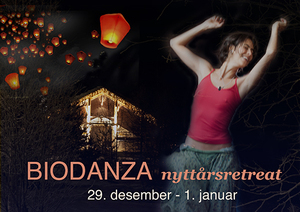 Fra 29. desember 2018
til 1. januar 2019
Dharma Mountain, Hedalen
Yess! We have decided to organise this workshop also this year! After 8 years, we still love it! And we know that many of you love it too :-) Welcome to the 8th Biodanza New Year workshop at Dharma Mountain in Valdres, Norway. from 18:00 Saturday 29 December 2018 until approx 14.00 Tuesday 1 January 2019    D ...
Fra 9. mars 2019
til 10. mars 2019
It is with joy that I am looking forward to go to London to teach the weekend Affectivity at the London school of Biodanza. Please go to http://www.biodanza-londonschool.co.uk/contact/ for more information.
Fra 16. mars 2019
til 17. mars 2019
This weekend I will teach the module Mythological and Philosophical aspects of Biodanza at the Biodanza school in Riga.  Please contact the management at the biodanza school for more info: http://biodanzalatvia.lv/lv/kontakti
Fra 3. mai 2019
til 5. mai 2019
Van Ouwenallerlaan 6, 7157 AZ Rekken
Guided by the Archetype of the Mystic and the Magician - Bringing hidden potential to life This weekend I invite us to enter the creative and nourishing field of the Magician and the Mystic. These two archetypes has a quite different dimension of operation: the Mystic, being the master of the hidden potential, ...
Fra 24. mai 2019
til 26. mai 2019
HAFOS (Hadeland folkehøgskole) Augedalsvegen 15 , Brandbu
It is of great honour and happiness that we invite you to the vivencial Biodanza weekend Identity and the Four Elements. We are lucky to have Helene Levy Benseft coming to us from France to conduct it.  Location: Brandbu, 1.5 hours north of Oslo, Norway Begins: Friday 24th May 2019 at 18:00 Ends: Sunday 26th of M ...
Billetter
Deposit: 500,00 kr

Fra 31. mai 2019
til 2. juni 2019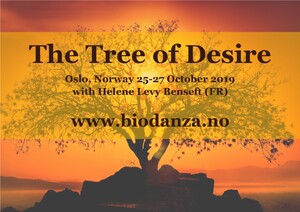 Fra 25. oktober 2019
til 27. oktober 2019
It is of greate honour and happines that we invite to the vivencial Biodanza weekend : The tree of Desire. We are luckey to have Helene Levy Benseft coming to us from France to conduct it.  Time: Friday October 25 2019 at 18:30 - 21:15 Saturday October 26 2019 at 10:30 - 19:00 Sunday October 27 2019 at 10:30 - 1 ...